We have been eagerly following the announcements in the 50th Costa Book Awards 2021. Copies of all the Shortlisted Books were added to library stock. Two of our favourite books of the year were shortlisted for the novel category – 'The Island of Missing Trees' by Elif Shafak and 'Unsettled Ground' by Claire Fuller.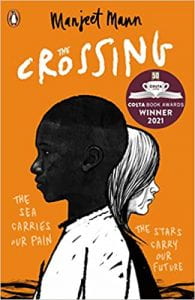 We were particularly excited to see 'The Crossing' by Manjeet Mann won the Children's Book Category. This powerful and moving verse novel has been very popular with our students and we are looking forward to Manjeet's visit next term. Last year we gave all our incoming Y9s a copy of Manjeet's first YA verse novel 'Run, Rebel' as a summer holiday read before joining Wellington College. This was also very well received and prompted many students to go on and read 'Run, Rebel'. A number of them developed a new interest in verse novels and went on to read Sarah Crossan's books. They loved the pace of the story and the look of the poems on the page.
On Tuesday 1st February 2022 the Costa Book of the Year was announced; chosen from the five category winners.
Hannah Lowe's collection of poetry, 'The Kids', has won the £30,000 Costa Book of the Year Award. This book of sonnets has been described as 'uplifting' and 'a book to fall in love with'. I like the judging criteria of 'the most enjoyable book' –  a book to read, enjoy and share. The prize 'rewarding and celebrating highly readable and recommendable books that anyone and everyone can enjoy.'
Having read, and thoroughly enjoyed 'The Kids', I agree with the judges – this is a celebration of young people, their energy and diversity and also a personal story of a young teacher who isn't afraid to poke fun at her own mistakes; the learning is both by the teacher and the students. Lowe creates an incredibly accessible and moving collection of contemporary sonnets including themes of motherhood, parents and relationships which is  often very witty. Lowe's personality and voice buzz off the page – there is the immediacy in her writing which makes it a highly accessible collection of poetry. Many people feel wary or daunted by poetry but this book is for everyone and may convince poetry sceptics to try some more!
A particular joy is hearing Hannah Lowe read her poetry. You can listen to a reading here
Listen to an interview with Lowe by current students at City and Islington College. She was an English teacher at CANDI from 2002 – 2012.