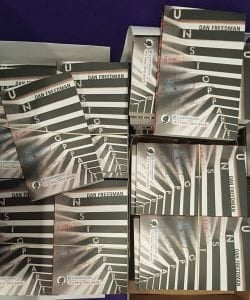 We're excited to welcome Dan Freedman to give two author talks to our Y9 in February. In 2021, during lockdown, Dan ran two online Q&A sessions for three of our Y9 boys' tutor groups. They were fascinating and giving the boys 'Unstoppable' to read as a group really kickstarted their reading for pleasure.
Unstoppable  is a thriller combining a sporting theme, with family tensions and secrets. It tells the story of 14 year old sport mad twins Kaine and Roxy. Roxy is a talented tennis player who is being pushed hard by her Dad. Her twin Kaine is hoping to make it in football but is starting to get into trouble and being lured into crime. The twins become increasingly alienated and the family starts to become torn apart. Here's Dan Freedman talking about his book and reading from it.)
This year the whole year group have been given a copy to read in advance of Dan's visit. We're hoping to generate a real buzz around the book, fuelling plenty of book chat. It's really positive to see many tutors are reading 'Unstoppable' too so they can join in the discussions.
A former Y9 gave this endorsement:
'It was a thrilling read and I started it on Saturday morning and had finished by that evening. It is exactly the genre that I like! I'm going to tell my friends to read it.'
And let's give the last word to Marcus Rashford: