The Yoto Carnegie 2023 Shortlist has just been announced!
Have a browse of the 7 brilliant books shortlisted for the prize for writing for children and young people HERE.
I'm looking forward to reading the 5 titles I haven't already read but can highly recommend 'I must betray you' by Ruta Sepetys and 'Medusa' by Jessie Burton, both of which are currently available in the Library.
Read an article in The Guardian about the all female shortlist HERE
The prize for illustration is always a good source of beautiful books which demonstrate creativity, skill and originality combined with engaging storytelling or factual content.
We buy these books so they can be enjoyed by the youngest members of our boarding school community. (and we enjoy them too!).
The winners will be announced on 21st June 2023
See previous winners HERE
On 17th June 2020 on BBC Radio 4's Front Row arts programme the CILIP Carnegie Medal Book Award winner was announced.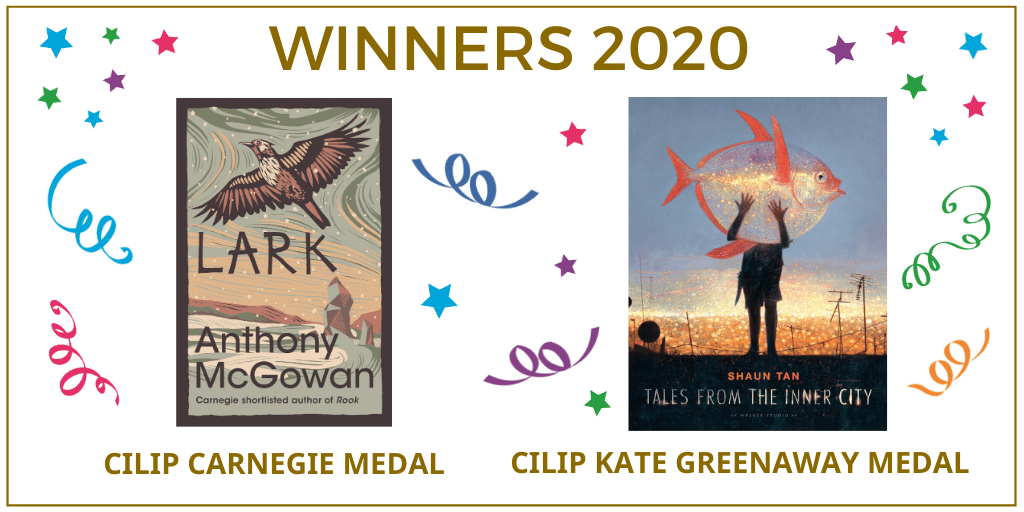 Here is Librarian, Mrs Tuomey's review.
Lark by Anthony McGowan        
Following idyllic tales their father told of trips onto the Yorkshire Moors, two brothers set off with their dog.  Armed with jam and cheese sandwiches, a bottle of pop, and a Leeds United scarf and hat to share; they jump on a bus to Thirsk.  Larking around as they go, they trek off into the hills just as it starts to snow. 'It won't settle' Nicky thinks.  However, the weather closes in. The snow falls heavily and soon the boys have lost their way.
As a reader, it is as if you are there beside them. It makes us shiver thinking about it. 
This award winning adventure of survival in the bleak hills shows the devotion the two brothers have for each other right to the end.  It is one of a series of novellas (Brock, Pike and Rook) written by Anthony McGowan,  featuring brothers Nicky and Kenny.  They are all available in the Library.
Shaun Tan won the CILIP Kate Greenaway Children's Book Award with his beautiful book 'Tales from the Inner City'
The CILIP Kate Greenaway Medal is awarded by children's librarians for an outstanding book in terms of illustration for children and young people. Shaun Tan is the first BAME author to win the Kate Greenaway Medal
NEW: For those of you reading the shortlisted books and shadowing the prize new content has been added to the Carnegie Medal Shadowing website. Have a look at the author videos and options for accessing e-books and audio versions.
Due to the extraordinary circumstances we are currently experiencing we are holding our first ever Virtual Book Club via Microsoft Teams. Our Y9 and Y10 students are reading a selection of the longlisted books and going on to Shadow the prize.
We had our first virtual meeting on Thursday 26th March and I introduced the prize, explained the judging criteria and briefly chatted about No Fixed Address, Black Flamingo and Patron Saints of Nothing by Randy Ribay.
Emily (Y9) gave us an excellent video review of Paper Avalanche by Lisa Williamson.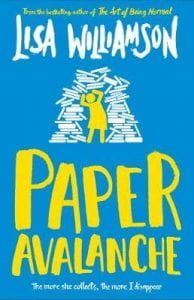 The protagonist of Paper Avalanche is 14 year old Ro Snow. She lives her life trying to stay under the radar, trying her best to make sure people do not notice her.  At home, her life is very difficult as her mother (Bonnie) is a hoarder, and their entire house (with the exception of Ro's room) is an ever-growing mound of rubbish and paper. Ro lives in fear of social services finding out about her situation and taking her away, so she lives a lonely life and doesn't make connections with any other people around her. I am enjoying this book so far because of how sensitively written Ro and Bonnie's mother-daughter dynamic is written.  Also I love how beautifully the book explores Bonnie's severe mental health issues and their effect on Ro.
Head Librarian, Ms Atherton:
Having recently read 'Paper Avalanche' by Lisa Williamson and 'No fixed address' by  Susin Nielsen I loved them both and found a number of parallels in the books. Both were compelling reads – hard to put down with sympathetic, believable characters. Both novels concern only children coping with a mother struggling to deal with daily life. Ro's mother is a self-obsessed compulsive hoarder and Felix's mom Astrid struggles to hold down a job or a relationship. Both mother's have major mental health problems but really love their children, they are just incapable of looking after them effectively. Both Felix and Ro desperately try to hide the chaotic nature of their lives from friends and teachers and are forced to become mature beyond their years to maintain the pretence. They in effect adopt the parental role in their family. The burden of living a secret life puts impossible pressure on the young people and creates real tension in the plot – the reader is willing everything to work out.
My favourite aspect of the books were the wonderful best friends. Both Felix and Ro have the most likeable 'loyal sidekicks'. As the plots progressed I lived in fear of the protagonists pushing away their quirky, loyal friends.
Library Assistant Ms Varcoe really enjoyed reading 'Becoming Dinah' by Kit de Waal and gives it 4/5.
Becoming Dinah by Kit de Waal
This is a story about a girl looking for her place in the world, about finding her "tribe". Her plans to run away from home are thwarted at the last minute, by an unexpected turn of events, and she ends up on a road trip with a family friend. The people they come across all open her eyes to different ways of life, and ultimately, she realises that it is ok not be like everyone else, but to live authentically and be the person she really is.
Librarian Mrs Tuomey enjoyed shortlisted book 'Lampie' the first book in translation to have made it onto the Carnegie Medal Shortlist.
Lampie by Annet Schaap
This translation won the Best Dutch Children's book award in 2018. Lampie lives with her father in a lighthouse, and works hard so they can stay in the home she loves. The impact of losing just one match forces Lampie to start a new life in the remote village nearby. This salty tale sets you firmly on a sea swept adventure where a mythical element creates a twist at the end – it is definitely a fairytale in the best possible way. Lampie really came alive for me in this beautifully written classic.
——————————————————————————————-
Carnegie Winner 2019
You can watch her inspirational acceptance speech here
What will you be reading first?
The Carnegie and Greenaway Medal nominations have been announced for the 2018 prize. Visit the website for an impressive list of great reading.
The timings of the prize are given below:
2017 Anniversary Year
Activity for 80th Anniversary of the CILIP Carnegie Medal and 60th Anniversary of the Kate Greenaway Medal continues throughout the year – until December 2017. See how you can get involved
2018 Timetable
6 November 2017
Nominations published
15 February 2018
Longlist announcement
15 March 2018
Shortlist announcement (evening)
16 March 2018
Start of Shadowing:
Book deliveries: shortlist preorders from our official book supplier
Publicity packs will delivered to UK shadowing groups and available to download
March-June
Shadowing group reading, reviews & shadowing activity
2018 shortlist book, author & illustrator information, our judges' comments and other materials
2018 reading resources and visual literacy resources from CILIP CKG and Amnesty UK will be available to download
Watch, Listen and Read: read profiles and watch videos interviews of the 2018 authors and illustrators
Weekly email bulletins to shadowing group leaders
2018 shadowing competitions from our sponsors Regular updates from our judges via the CKG Judges' Blog
18 June 2018
2018 Medal winners' announcement and Amnesty CILIP Honour commendations – starting at midday
2017 Prize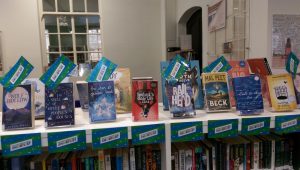 The 2017 CILIP Carnegie and Greenaway medal shortlists have been announced! These two prizes are the oldest book awards for children and young people. The Carnegie Medal is for outstanding writing for children and young people, while the Greenaway Medal is for book illustrations for children and young people. We have copies of all of the books on both shortlists and are looking forward to reading some over the Easter holidays. The winner is announced at the end of June, so there's time to try and read all of the shortlist if you want! Which one will be your favourite?
The CILIP Carnegie Medal 2017 shortlist (alphabetically by author surname):
Sputnik's Guide to Life on Earth

by Frank Cottrell Boyce (Pan Macmillan)

The Bone Sparrow

by Zana Fraillon (Orion Children's Books)

The Smell of Other People's Houses

by Bonnie-Sue Hitchcock (Faber & Faber)

The Stars at Oktober Bend

by Glenda Millard (Old Barn Books)

Railhead

by Philip Reeve (Oxford University Press)

Beck

by Mal Peet with Meg Rosoff (Walker Books)

Salt to the Sea

by Ruta Sepetys (Puffin

Wolf Hollow

by Lauren Wolk (Corgi)
---
Carnegie Book Award 2016
The Carnegie Book Award Shortlist 2016 has landed and our Y9 shadowing group members have collected their first books to read over the Easter holidays. It's a fantastic shortlist this year including 'The Lie Tree' by Frances Hardinge; Costa Book of the Year 2015 and much praised and recommended by both librarians here. I thought 'One' was amazing and Sarah Crossan's trademark style of writing in blank verse works well with the subject matter. Tipi and Grace are conjoined teenage twins and each chapter conveys a poetic snapshot of their life.
Read more about the shortlists here  You can watch author and illustrator videos here
Guardian reviews of all the books can be found here
Having multiple copies of the shortlisted books enables a large group of students to read the books simultaneously and provokes heated discussions about the merits and drawbacks of all of them. After the award process is over they become useful sets of contemporary fiction which can be read by tutor groups.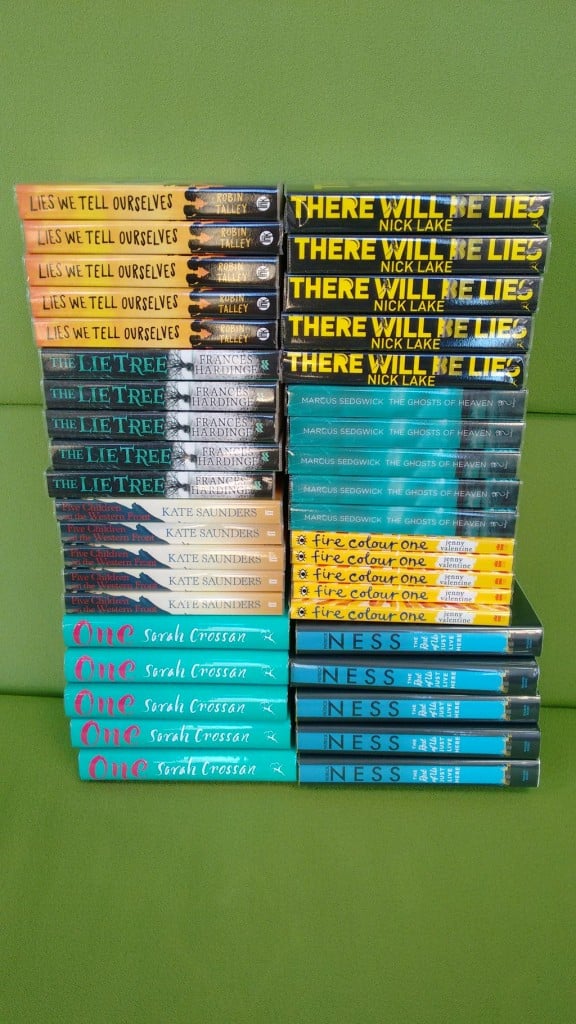 The 8 shortlisted books are:
One by Sarah Crossan
The Lie Tree by Frances Hardinge
There Will Be Lies by Nick Lake
The Rest of Us Just Live Here by Patrick Ness
Five Children on the Western Front by Kate Saunders
The Ghosts of Heaven by Marcus Sedgwick
Lies We Tell Ourselves by Robin Talley
Fire Colour One by Jenny Valentine
2015
On 22nd June we had a lovely joint Carnegie Prize Announcement event with Eagle House Y8S. We did a quiz on the Carnegie shortlisted books with a few questions on our reading preferences including e-books and e-readers and voted using cool turning technology responseware devices. Our joint Shadowing groups voted for More than This by Patrick Ness closely followed by Buffalo Soldier. Sarah Crossan's Apple and Rain was also very popular. We watched the results live as we tucked into great sandwiches and cookies.
I was really excited to see Buffalo Soldier by Tanya Landman was the winner this year. I thoroughly recommend this moving book to everyone – teens and adults alike.
2015 – 17th March – The shortlist is here!
Apple and rain by Sarah Crossan (Bloomsbury)
When Mr Dog bites by Brian Conaghan (Bloomsbury)
More than this by Patrick Ness (Walker Books)
Buffalo soldier by Tanya Landman (Walker Books)
Tinder by Sally Gardner (Orion Children's Books)
Cuckoo song by Frances Hardinge (Pan Macmillan)
The fastest boy in the world by Elizabeth Laird (Pan Macmillan)
The middle of nowhere by Geraldine McCaughrean (Usborne Books)
This year's beautifully colour-coordinated collection of shortlisted books have arrived! We discussed them with Book Chat club on Wednesday and they chose to start reading The Fastest Boy in the World and When Mr Dog Bites first. We have multiple copies of the books and are hoping to shadow the prize with a number of 3rd form tutor groups. 5 of the titles are also available as e-books. Are you up for the challenge of reading all 8 over the Easter holidays? If this is too much you have until 22nd June to read them and choose your winner!
The Carnegie shortlist the books arrived on 18th March. The Book Chat book club boys have chosen the books they'd like to read first. We're starting with 'The Fastest Boy in the World' and 'When Mr Dog Bites'
On Monday 23rd March the Y9 Scholars and Exhibitioners started their shadowing. They enthusiastically chose shortlisted titles to read over the Easter holidays.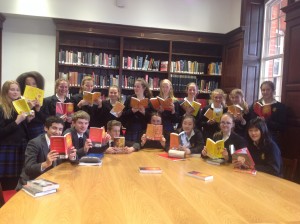 2014
This year rather than just nominations following by a shortlist in March a longlist has been introduced.
Have a look at the longlist and read some of the great books (available in the library)
2013
Here's a great page of video interviews with the shortlisted authors talking about their books.
The Carnegie Shortlist for 2013 was announced in April and reading is underway. Join in the book chat and pick up one of the 8 shortlisted titles from the Library today!
Click on the pinterest board to view the shortlisted books.
Mrs Lunnon's 3rd form class are shadowing the prize and all read one of the books over the Easter holiday. They have named their group "Giveitsomewelly" and have started adding their reviews to the Shadowing page. Ms Williamson's 4th form tutor group are about to embark on the books.
Join in the debate – which is your favourite? What do you think of the shortlist?
You can tweet your comments/feedback on the books using the hashtag #ckg13
Any 3rd form who would like to join a Library Shadowing group come to a meeting at morning break tomorrow (Friday 19th).
Biscuits and drinks provided!
———————————————————————————————————————————————————-
Carnegie 2012
Here is the shortlist as a pinboard – cover image and brief blurb on the plot.
It would be great if we could all read "Trash" by Andy Mulligan first – a gripping thought-provoking book which reads like a thriller and it's only 211 pages long!
Here's a link to video book trailers for the shortlisted books.