Read around the World
I've been interested in this idea ever since I heard about Ann Morgan's  'A year of reading the world'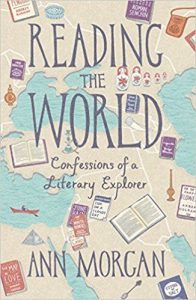 She writes in the opening of her book:  "I glanced up at my bookshelves, the proud record of more than twenty years of reading, and found a host of English and North American greats starting down at me…I had barely touched a work by a foreign language author in years…The awful truth dawned. I was a literary xenophobe."
She set out to read a book translated into English from each of the world's 195 UN-recognised countries (plus Taiwan and one extra) in one year. She has recently produced a New TEDx talk: what I learned reading a book from every country
My enthusiasm was revived when English teacher, Jo Wayman mentioned that she is currently reading around the world. It seems to offer so many benefits – from starting a conversation about books with people from different nations or backgrounds to opening our minds to different writing styles, settings and viewpoints. If we read books by authors from our holiday destinations we are likely to gain insights into the culture, history, politics and art of that country. Not to mention that is works well with the international outlook of the IB (International Baccalaureate) and our efforts to encourage diversity.
 As you holiday in a wide range of different countries (books set in destinations within the British Isles are fine too) why not join in with our summer reading challenge?
 Read a book set in your destination country
Read a book written by an author from your holiday country
Read or recommend a book by an author from your home country
Homegrown books are still fascinating – Scotland, Northern Ireland,  Eire, Wales, England down to counties, cities, towns, villages…
 Wherever you are we want to hear from you!
Take a picture of yourself reading in front of a landmark in your chosen country.
Share your recommendations via:
Email to library@wellingtoncollege.org.uk 
or Tweet to: @welly_library
Here are a few recommendations – we will be adding to this over the summer holidays.
Afghanistan: 'The Kite Runner' or 'A Thousand Splendid Suns' by Khaled Hosseini
Germany: 'Why We Took the Car' by Wolfgang Herrndorf. Recommended by my German friend as a great and enjoyable novel for teenagers. Or read it in the original German as 'Tschick'?
India: 'A Suitable Boy' by Vikram Seth or Booker Prize winning 'White Tiger' by Aravind Adiga
Israel: 'A pigeon and a boy' by Meir Shalev recommended by Mrs Wayman's Israeli friend.
Italy: 'I'm not scared' (Io non ho paura)  by Niccolo Ammaniti. A suspenseful novel, moving and with an evocative sense of place – set in Sicily.
Japan: Any of Murakami's novels. A number of IB classes have read 'The wind-up bird chronicle' as one of their works in translation.
Nigeria: 'Things Fall Apart' by Chinua Achebe
or for a more contemporary novelist, books by Chimamanda Ngozi  – 'Purple Hibiscus' or 'Half of a yellow sun' set in the times of the Nigerian civil war.
Pakistan: 'I am Malala'
South Africa:
'Fiela's Child' by Dalene Matthee (recommended by an U6th student)
See a review here
Suggestions and ideas.
We are keen to build up a list of recommended reads from as many countries as possible and create a huge map and display in September.
For inspiration you could try an interesting book we have in the library called 'Reading on Location: Great books set in top travel destinations by Luisa Moncada
Here are some suggestions from a Guardian article from 2006 (not recent but it is recommending classic reads) 'Reading on Location' 'Often, the best kind of holiday read is one that's inspired by the place you're visiting. James Anthony and Sarah Crown suggest some classic literary accompaniments to your summer escapes'
TripFiction is a website to help you find books set in locations – you can search for your destination country and add your own suggestions.
Ann Morgan on her blog gives some excellent advice about starting out on this venture:
Be curious and open to changing your ideas Reading the world requires you to let go of your assumptions about many things – from morality and history to what counts as a book in the first place. This can be challenging but also hugely rewarding. As far as possible, try to keep an open mind.
Make the quest your own Many of the people I hear from tell me that they're using my list as a guide. It's great to know that it's useful and I hope that the Book of the month reviews help keep it fresh. However, there are so many amazing books out there and a huge amount has changed since I read the world in 2012. Thousands of brilliant new translations have been published, in some cases opening up the literature of countries that had nothing available in English during my quest.
Go at your own pace You don't have to read the world in a year. You don't have to read it in ten years. It's much better to go at a pace that you can sustain rather than to drive yourself frantic by trying to cram reading into every spare moment and turning it into a chore. Instead, find a window of time (even if it's just 15 minutes a day) that you can dedicate to reading and stick to that. And if you find yourself wanting to spend more time reading as you go along – great!
Use libraries and other reading resources to read for free Reading can be expensive. Even with the generous book gifts I received from strangers, my original quest cost me several thousand pounds. This can be prohibitive, especially if you live in a part of the world where books are relatively expensive. There aren't always easy solutions. However, where they exist, libraries can be a fabulous resource for bookworms. Not only do they make books freely available, but they will also often order in titles you request. For people in particularly difficult circumstances, there are charities such as Book Aid working to supply books.
Be patient and use your initiative It's very difficult when you come to a country that has no commercially available literature in English. What you do about this will depend on how much time and energy you have. During my quest (as you'll see if you read the posts for the Comoros, Panama and São Tomé and Príncipe, to name a few), I resorted to all sorts  of outlandish things to try to source texts, including contacting charities, academics and students working in the region, and tracking translators down through social media. There is no magic solution to ticking off these countries. However, the good news is, it's getting easier. Since my project, literature from several previously off-limits nations, including Madagascar and Guinea-Bissau, has been released in English. I'm hopeful it won't be long before every UN-recognised nation has something available in the world's most-published language. I'll do my best to keep you informed. Watch this space!