What a joy – the summer holidays – a chance to catch up on all those books you've been meaning to read!
Here are some places to visit for suggestions:
Top Ten Reads  For each subject you will find 10 top reads.  The lists are graduated: each subsequent read is more challenging than the last.  Start at the beginning and aim to read all 10.  Each menu also suggests some journals or magazines you might find interesting, particularly if you are thinking of reading that subject at university.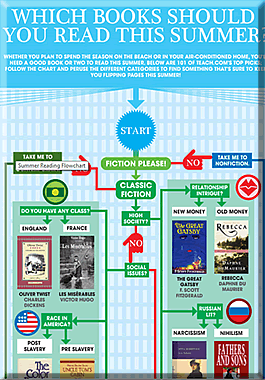 Here's a fun infographic on summer reading ideas. Follow the flowchart to explore a mix of classics and contemporary books, fiction and non-fiction. 101 book suggestions.
Read online: Browse the Public Library online shelves from the e-library and read an e-book.
Here is our Delicious Book Recommendation stack – plenty of book ideas, reviews, author interviews and book trailers to inspire you.
One for the boys  – one of the links in our Book Stack is the website "Literature for Lads" – crammed with reading ideas and reviews.