Lower School Biology Reading List
Here is the Wellington College 100 reading list. Challenge yourself to read all 100 books before leaving Wellington. It starts with the English Top Ten and includes a mix of classics and contemporary fiction.
Browse the library padlets for thematic reading suggestions.
Have a browse of the list of 100 novels that shaped our world.
A Level English
Doing English, by Robert Eaglestone
The Great Gatsby, by F.Scott Fitzgerald
Homegoing, by Yaa Gyasi
The Handmaid's Tale, by Margaret Atwood
A Passage to India, by E.M. Forster
Tess of the D'Urbervilles, by Thomas Hardy
Rapture, by Carol Ann Duffy
IB English Literature (Higher Level)
Homegoing, by Yaa Gyasi
The Great Gatsby, by F. Scott Fitzgerald
1984, by George Orwell
The Handmaid's Tale, by Margaret Atwood
Persepolis, by Marjane Satrapi
Maus, by Art Spiegelman
Doing English, by Robert Eaglestone
IB English Literature (Standard Level)
The Great Gatsby, by F. Scott Fitzgerald
Homegoing, by Yaa Gyasi
1984, by George Orwell
Persepolis, by Marjane Satrapi
Ms Gutulan, Head of English and the English Department ha
ve put together some suggested reading for the  incoming L6th over the summer. She writes:
This suggested reading is for those of you who will be either taking the International Baccalaureate (IB), or A Level English, from September – but anyone looking for something interesting to read this summer might find the reading list below useful; please note that only some of these books will be your set texts, although all of them will be useful during your two years of study.
I hope you enjoy them and the English Department looks forward to welcoming you back as Sixth Formers!
IB Literature and Performance (Standard Level)
The Great Gatsby, by F.Scott Fitzgerald
1984, by George Orwell
The Crucible, by Arthur Miller
——————————————————————————————————————————————–
Here is the Wellington College 100 reading list. Challenge yourself to read all 100 books before leaving Wellington. It starts with the English Top Ten and includes a mix of classics and contemporary fiction.
Have a browse of the recently published list of 100 novels that shaped our world.
These were chosen by a panel of writers and arts journalists for BBC Arts and are in themed categories covering everything from Adventure to Identity, Life, Death and Other Worlds to Rule breakers. How many of these groundbreaking books have you read? Which would you try first?
Don't forget to look at the recommended reads and reviews by staff and students on this page
Here's Mr Wayman's, (previously Head of English) Middle School reading list. This is an excellent reading list for  3rd, 4th and 5th form and includes some excellent tips on how to make the most of your reading. It covers both fiction and non-fiction.
Here are Mr Wayman's tips on choosing books and reading in general:
It may be helpful, if you sometimes struggle to get into a book, to do the
following:
1. Do a bit of research before you choose: ask friends, family, teachers,
librarians – and have a look online (amazon.co.uk is particularly
helpful). Read the blurb on the cover – but be careful of judging too
much from that….
2. Go for a shorter book to start with. Reading, like training, requires
gradual practice. It is very satisfying to finish a book and dispiriting to
abandon one: start one you feel you can finish; don't be over-ambitious
at first. Short stories can often be a good place to start
3. Your first reading session should be a decent one in terms of length.
You cannot get into a book in just a few minutes. Try to set aside at
least half an hour, free from interruptions, so you can get 15 – 20
pages in and establish a sense of what is going on.
4. If the book is in chapters, set yourself a target; if not, use page
numbers as goals.
5. Crucially, keep the books with you as much as possible: in your bag,
on the journey to school, on the kitchen table. If you leave it
abandoned, unread for a few days because it is not to hand, you will
lose interest. The longer you leave it, the less you will want to pick it
up. Little bursts of reading – 5 to 10 minutes at odd times of the day –
all add up and keep the book fresh inside you.
Mr T. Wayman, former Head of English, now HM of the Orange.
English Department recommends This is a new reading list from our English teachers with plenty of reading extension encompassing narrative, poetry, non-fiction, critical theory and recommended TED Talks. Watch this space for additional reading lists!
Don't forget each academic department's Top Ten Reads This is a great starting point for extending your subject specific reading.
The Guardian also has excellent subject and genre themed pages on Top Ten Books which provide more great reading suggestions.
Lovereading4kids  Is an excellent website for book suggestions. You can search by age group or category and it includes author interviews and book samples.
Summer Reading 3rd and 4th Form
The Strange Case of Dr Jekyll and Mr Hyde, by Robert Louis Stevenson
The Curious Incident of the Dog in the Nightime, by Mark Haddon
The Go-Between, by E. P. Hartley
The Lord of the Flies, by William Golding
The Outsider, by Albert Camus
The Hitchhiker's Guide to the Galaxy, by Douglas Adams
On the Road, by Jack Kerouac
The Catcher in the Rye, by J. D. Salinger
Jane Eyre, by Charlotte Bronte
Miss Marple Omnibus: Volume 1, by Agatha Christie
Rebecca, by Daphne du Maurier
Persepolis, by Marjane Satrap
Maus, by Art Spiegelman
1984, by George Orwell
The Eton reading list for 16 year olds  If you are looking for a challenging and varied but quite heavy reading list here are 40 books recommended by the former Headmaster of Eton, Tony Little. His list was published in 2013 and billed as a list of books that "every bright 16-year-old should read".  It is a personal selection and women and BAME authors are under-represented or non-existent.
You might want to read some of the Women's Prize Shortlisted Books 2019 to redress the balance and read the excellent winning title 'An American Marriage' by Tayari Jones.
Hay Festival – Books to Inspire
A more diverse list has been created by the Hay Festival this year to celebrate its 32nd year. A poll was undertaken by the Hay Festival and the TES and readers were asked to vote for their favourite books to inspire the next generation of readers. The resulting list consists of 32 titles for secondary school age pupils and 32 for primary school children.
———————————————————————————————————————————————
Mental Health Awareness Week 14th – 20th May 2018
Just a reminder that we have a wide-ranging collection of books supporting wellbeing and mental health. The Reading Agency created the Reading Well – Shelf Help Collection which can be browsed here and are all available from the school library. This excellent list includes popular YA fiction which tackles difficult subjects. Here is a list of top Mood Boosting Books chosen by young people in 2017.
Have a browse of The Guardian Best Books of 2017 lists. You can choose thematic lists from the webpage.
Looking for reading inspiration?
Why not try this elegant site The readinglists.com The site was set up by a passionate reader of non-fiction with a mission to inspire people to read more and direct them to excellent reading material via interviews and book recommendations from experts in a wide range of fields. The latest list is recommended by neuroscientist Dick Passingham and offers a fascinating and thought-provoking mix of reading. The Five Books website provides a similar format with interviews and book lists and has a fun feature of 'Random Interview' option if you're feeling like a 'lucky dip'.
or Find your next read from the Penguin website.
Here's a new reading list from the English and Media Centre for Y9 and Y10. (Really Wide Reading)
EMC writes: we have put together a booklist which could be used to guide students towards some independent reading. The list starts with suggestions focused on the two most commonly taught 19th-century novels (A Christmas Carol and Dr Jekyll and Mr Hyde). This is followed by a short list of modern books set in Victorian times to help with contextual knowledge as well as suggestions for good 'first classics' to get students used to Victorian style and vocabulary, or have a first taste of the author they will study later.
Here's a new diverse 6th form reading list including suggestions from around the world. See the blog post about it here
English teacher Ms Kirby has just discovered an excellent new reading list created by The English and Media Centre
Mirrors, Windows and Sliding Glass Doors: Book List for Sixth Formers and Confident Older Readers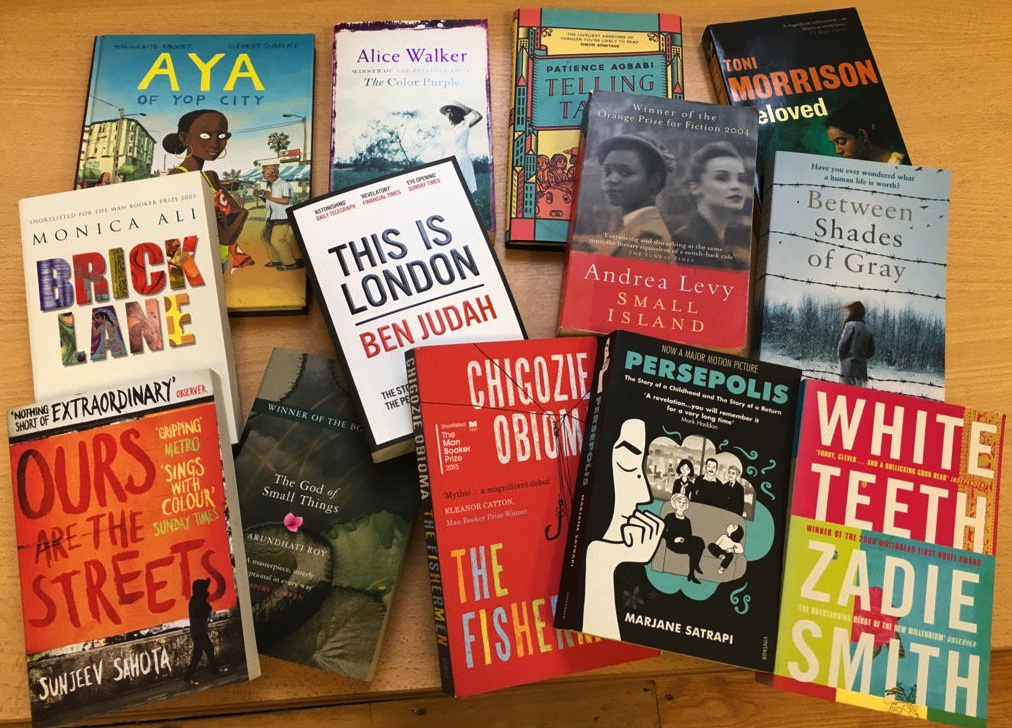 (Image from EMC)
Service Team – Social issues reading list
The Service Team at Wellington College suggested a book list on the theme of social issues. This is a starting point – most of the following books are available from the Library; we will be adding books to this list. I personally would highly recommend Tuesdays with Morrie as a remarkable and uplifting book dealing with terminal illness and dying but also with many positive messages for all of us. Matt Haig's autobiographical book 'Reasons to stay alive' deals with depression in a very honest way but has some helpful suggestions for dealing with the illness which still challenges him.
A selection of mainly autobiographical books giving some insight into a range of social issues.
Depression, Mental health issues
Black rainbow – Rachel Kelly
Reasons to stay alive – Matt Haig (also available as an e-book)
The shock of the fall – Nathan Filer (fiction)
It's kind of a funny story – Ned Vizzini
Autism
The reason I jump by Naoki Higashida
Understanding autism for dummies
Dementia, Aging
Elizabeth is missing – Emma Healey (fiction)
Homelessness, Addiction
A street cat named Bob – James Bowen
Poverty, Child neglect
Ugly – Constance Briscoe
The Kid – Kevin Lewis
Hidden – Cathy Glass
Life lessons
Tuesdays with Morrie – Mitch Albom