YA Fiction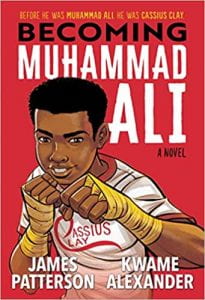 Becoming Muhammad Ali by James Patterson and Kwame Alexander (a wonderful verse and prose novel with beautiful illustrations, bringing to life the character and childhood of Cassius Clay). The verse chapters are by Kwame Alexander and capture Cassius' exuberant character, confidence, energy and love of rhyming. The prose chapters, written by James Patterson, are told from the viewpoint of Cassius' boyhood friend Lucky, portrayed as studious and hardworking at school. The boys have adventures together and are fiercely loyal and supportive to each other. The setting of the novel also shows the reader what it was like to suffer discrimination as a black child growing up in Kentucky in the 1940s and 50s.  Here's a live action trailer and an animated trailer with Muhammad Ali's rhymes.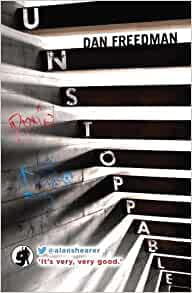 Unstoppable by Dan Freedman (An exciting read for those who like sport and thrillers.) It tells the story of 14 year old sport mad twins Kaine and Roxy. Roxy is a talented tennis player who is being pushed hard by her Dad. Her twin Kaine is hoping to make it in football but is starting to get into trouble and being lured into crime. The twins become more and more alienated and the family starts to become torn apart. Here's Dan Freedman talking about his book and reading from it.) I have been recommending this to our students and had this great feedback from a Y9 'It was a thrilling read and I started it on Saturday morning and had finished by that evening. It is exactly the genre that I like! I'm going to tell my friends to read it.
Cane Warriors by Alex Wheatle
The Great Godden by Meg Rosoff
The Burning by Laura Bates
No fixed address by Susin Neilsen
Why we took the car by Wolfgang Herrndorf
Unstoppable by Dan Freedman (An exciting read for those who like sport and thrillers. Here's Dan Freedman talking about his book and reading from it.)
Bearmouth by Liz Hyder
No ballet shoes in Syria by Catherine Bruton
Paper Avalanche by Lisa Williamson
Patron Saints of Nothing by Randy Ribay (Thriller set in the Philippines)
Black Flamingo by Dean Atta
Aristotle and Dante discover the secrets of the universe by  Benjamin Alire Saenz
After the fire by Wil Hill
The Territory (dystopian trilogy which continues to be popular with the 3rd and 4th form)
Scythe by Neal Shusterman (popular, gripping trilogy perfect for Hunger Games fans)
Two excellent verse novels:
Run, Rebel by Manjeet Mann.  We're excited that all Y9 were given a copy to read over the Christmas holiday. We had a great virtual author talk on Thursday 14th January and students put their questions to Manjeet about her powerful novel, her writing process and how theatre and sport can empower women and girls.
Clap when you land by Elizabeth Acevedo
The Costa Book Award Shortlists are a rich source of reading suggestions. Look out for the Category Award Winners Announcement on 4th January 2021. Results HERE
HAY FESTIVAL BOOK OF THE YEAR 2020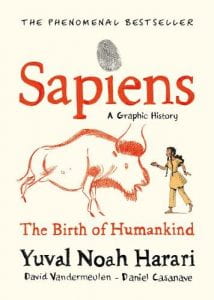 Graphic Novels
Recently published Sapiens: A graphic history  – The  Birth of  Humankind  by Yuval  Noah  Harari
The ragged trousered philanthropists by Sophie Rickard and Scarlett Rickard (originally writtten by Robert Tressell
Long Way Down by Jason Reynolds
White Bird by R. J. Palacio
Flake by Matthew Dooley (a charming very funny story of friendship, ice-cream wars and cryptic crosswords!)
When stars are scattered by Victoria Jamieson and Omar Mohamed
Glass Town by Isabel Greenberg (a vivid historical fiction taking us inside the dreamworld and childhood of the Brontes)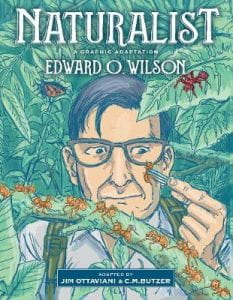 Naturalist: A graphic adaptation by C.M. Butzer  (of  naturalist E.O. Wilson's memoirs)
Art
Artemisia Gentileschi (Lives of the Artists) by Jonathan Jones
200 words to help you talk about Art by Ben Street
On Chapel Sands by Laura Cummings
Biography
A Promised Land by Barack Obama
Becoming by Michelle Obama
Black Spartacus: The Epic Life of Toussaint Louverture 

by

 

Sudhir Hazareesingh
My own words by Ruth Bader Ginsburg
My name is why by Lemn Sissay
Born a crime by Trevor Noah
Books about reading
Things I learned on the 6.28 – A guide to daily reading by Stig Abell
Dear Reader by Cathy Rentzenbrink
The Giver of Stars by Jojo Moyes
Classics
See our padlet for many accessible and enjoyable reading suggestions for Classics including 'Circe' by Madeline Miller and Natalie Haynes' recently published 'Pandora's Jar'
Don't miss Emily Wilson's translation of The Odyssey. Read a fresh translation of  Homer's masterwork by a female scholar and translator described as a 'riveting translation ripples with excitement and new meaning.'
The Secret History by Donna Tartt
Stephen Fry's latest book 'Troy: Our greatest story retold' was published at the end of October and is new in the Library
Computer Science
Ghost in the Wires: My adventures as the world's most wanted hacker by Kevin Mitnick
Hello World by Hannah Fry
I Ada: Rebel. Genius. Visionary. by Julia Gray
Invisible Women: Exposing data bias in a world designed for men by  Caroline  Criado  Perez
Ready Player One (and the recently published Ready Player Two) by Ernest Cline for fantasy quest fiction based on computer games themes)
Dance
No way home: A Cuban dancer's story by Carlos Acosta
Introduction to Modern Dance Techniques by Joshua Legg
Mao's Last Dancer by Li Cunxin
Drama
Hamnet by Maggie O'Farrell
 This is a lyrically written and emotionally devastating account of the Bard's only son. Utterly immersive and convincing, Hamnet is a poignant period tale that not only shines a light on an oft-neglected area of Shakespearean history but speaks to wider themes of grief and loss with impeccable poise and unflinching honesty.
The Drama department are encouraging Drama students to watch productions on our subscriptions to Drama Online, National Theatre Collection and Digital Theatre Plus. Have a look on the e-Library for access and login details. Here are some recommendations from Drama for each year group:
3rd and 4th Form
Peter Pan and Small Island (National Theatre)
Billy the Kid, Funny Girl and The Railway Children (Digital Theatre Plus)
5th and 6th Form
Frankenstein (National Theatre)
Lovesong (Frantic Assembly)
The Container
The Tempest (Donmar Warehouse)
The Crucible (Old Vic)
Beautiful Thing
Hedda Gabbler
Yerma
Economics
Here's an excellent reading list from the Economics Department recommended for 6th Form holiday reading.L6th Economics reading list Christmas 2020
The Double X Economy by Linda Scott
The Divide by Jason Hickel
Talking to my daughter: A brief history of capitalism by Yanis Varoufakis  (and published this year 'Another Now: Dispatches from an alternative present')
Good economics for hard times by Abhijit V. Banerjee and Esther Duflo
Less is more: How degrowth will save the world by Jason Hickel
Poverty safari: Understanding the anger of Britain's underclass by Darren McGarvey
The next fifty things that made the modern economy by Tim Harford
Environment, nature and climate change
A life on our planet : my witness statement and vision for the future by David Attenborough
Vesper Flights by Helen Macdonald
Diary of a Young Naturalist by Dara McAnulty
Net Zero: How we stop causing climate change by Dieter Helm
Entangled Life by Merlin Sheldrake
A fascinating survey of the wild and weird kingdom of fungi, which enable trees to talk to one another, humans to bake bread, and ants to become zombies. (Telegraph 28th November 2020)
Fiction
Hamnet by Maggie O'Farrell
Shuggie Bain by Douglas Stuart (Booker Prize Winner 2020)
Ready Player Two by Ernest Cline. (the eagerly awaited sequel for fans of  'Ready Player One')
Snow by John Banville (a perfect winter murder mystery)
The devil and the dark waterby Stuart Turton
False Value by Ben Aaronovitch (latest instalment of the brilliantly funny and quirky 'Rivers of London' series
Jane Harper thrillers set in Australia 'The Dry',  'Force of Nature' and 'The Lost Man' 
Miss Benson's Beetle by Rachel Joyce
Washington Black by Esi Edugyan
Where the crawdads sing by Delia Owens
The giver of stars by Jojo Moyes
The glass hotel by Emily St. John Mandel
Homegoing by Yaa Gyasi
The Essex Serpent by Sarah Perry
The Offing by Benjamin Myers
The Thursday Murder Club by Richard Osman
Zoo Station by David Downing (a series of spy thrillers set in WWII Berlin)
The Wall by David Lanchester
The Shepherd's Hut by Tim Winton
When the coffee gets cold by Toshikazu Kawaguchi
Geography and expeditions
Head of Geography, Mr Rothwell recommends the first 3 books to Geographers:
Disaster by choice: how our actions turn natural hazards into catastrophes by Ilan Kelman (important reading for all year groups and courses)
Terraformed: Young Black Lives in the inner city by Joy White (a candid, highly recommended book exploring many of the themes studied at A level)
Origins: How the earth shaped human history by Lewis Dartness (accessible to a wider audience)
Bad Samaritans – the guilty secrets of rich nations and the threat to global prosperity by Ha-Joon Chang.
The moth and the mountain by Ed Caesar
Prisoners of Geography by Tim Marshall
Factfulness by Hans Rosling
Have a look at the Library padlet for Geography themed fiction
History
A little history of the world by E. H. Gombrich
Black and British: A forgotten history by David Olusoga
Black and British: An short, essential history by David Olusoga (for young people)
The Good Germans: Resisting the Nazis, 1933 – 1945 by Catrine Clay
Dictators by Frank Dikotter (Mussolini, Hitler, Stalin, Mao Zedong, Kim Il-Sung, Ceausescu, Mengistu of Ethiopia and Duvalier of Haiti)
Humankind: A hopeful history by Rutger Bregman
The International Brigades: Fascism, Freedom and the Spanish Civil War by Giles Tremlett
Languages
A long petal of the sea by Isabel Allende
The great book of Spain by Bill O'Neill
The language lover's puzzle book: Lexical perplexities and cracking conundrums from across the globe by Alex Bellos
Word Perfect: Etymological entertainment for everyday of the year  by Susie Dent
The President's Hat by Antoine Laurain
The Rednotebook by Antoine Laurain
The International Brigades: Fascism, Freedom and the Spanish Civil War by Giles Tremlett
The Good Germans: Resisting the Nazis, 1933 – 1945 by Catrine Clay
Law
In Black and White: A young barrister's story of race and class in a broken justice system by Alexandra Wilson
Fake Law by the Secret Barrister
The Secret Barrister: Stories of the Law and how it's broken
Maths
How to make the world add up: Ten rules for thinking differently about numbers by Tim Harford.
Naked Statistics by Charles Wheelan
Maths on the back of an envelope: clever ways to (roughly) calculate anything by Rob Eastway
Medicine
Dear Life: A doctor's story of love, loss and consolation by Rachel Clarke
The language of kindness: A nurse's story by Christie Watson
The Vaccine Race: How scientists used human cells to combat killer viruses by Meredith Wadman
Mental Health and Wellbeing
The Art of Rest: How to find respite in the modern age by Claudia Hammond.
Quiet: The power of introverts in a world that can't stop talking by Susan Cain
It's not ok to feel blue (and other lies) by Scarlett Curtis
Reasons to stay alive by Matt Haig
Music
One two three four the Beatles in time by Craig Brown (Winner of the Baillie Gifford Prize for Non-Fiction 2020)
Philosophy & Religion
The Philosopher Queens: The lives and legacies of philosophy's unsung women edited by Rebecca Buxton and Lisa Whiting.  Published this year.
How to live a good life; A guide to choosing your personal philosophy edited by Massimo Pigliucci. (essays by 15 leading philosophers on what it means to live according to a philosophy of life.)
The Socrates Express: In search of life lessons from dead Philosophers by Eric Weiner
Mr Kirby, Head of P&R recommends:
A History of the Bible by John Barton
Philosophy of Mind: The basics by Amy Kind
Politics
A Promised Land by Barack Obama
The Breakdown: Making sense of politics in a messed up world by Spiller Tatton
Becoming by Michelle Obama
Too much and never enough: How my family created the world's most dangerous man by Mary L. Trump
Science
The immortal life of Henrietta Lacks by Rebecca Skloot
Human Beings: What science can teach us about life, love and relationships by Camilla Pang (Winner of the Royal Society Science Book Prize 2020)
Guns, germs and steel by Jared Diamond
Entangled Life by Merlin Sheldrake
A fascinating survey of the wild and weird kingdom of fungi, which enable trees to talk to one another, humans to bake bread, and ants to become zombies. (Telegraph 28th November 2020)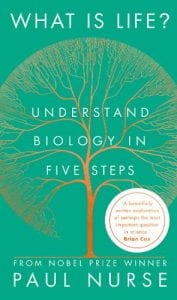 Biology
What is life? Understand Biology in Five Steps by Paul Nurse (published this year – a short (210 small pages), beautifully written introduction to biology in five chapters – The Cell, The Gene, Evolution by Natural Selection, Life as Chemistry, Life as information and Changing the World.)
The body: a guide for occupants by Bill Bryson (shortlisted for the Royal Society Science Book Prize 2020)
I contain multitudes by Ed Yong
Chemistry
The Periodic Table by Primo Levi
Physics
The World according to Physics by Jim Al-Khalili
Storm in a teacup: The physics of everyday life by Helen Czerski
Carlo Rovelli's short, accessible and beautifully written books on Physics
Reality is not what it seems
The order of Time by Carlo Rovelli
Seven Brief Lessons on Physics
and his recently published book – There are places in the world where rules are less important than kindness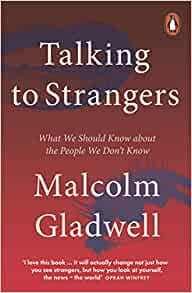 Psychology
Talking to Strangers by Malcolm Gladwell
The Great Pretender by Susannah Cahalan
Thinking fast and slow by Daniel Kahneman
Stumbling on Happiness by Daniel Gilbert
Quiet: The power of introverts in a world that can't stop talking by Susan Cain
Race and identity and history
Black and British – A forgotten history and recently published for young people Black and British –  A short essential history by David Olusoga
Why I'm no longer talking to white people about race by Reni Eddo-Lodge
Wish we knew what to say: Talking with children about race by Pragya Agarwal
100 Great Black Britons by Patrick Vernon and Angelina Osborne
Small Island and the The Long Song by Andrea Levy
Have a look at the library padlet on 'Fighting Racism' for more reading suggestions and the padlet on 'Black Voices'
Sport
Eat Sweat Play: How sport can change our lives by Anna Kessel
The Rodchenkov  Affair: How  I brought  down  Russia's  secret doping Empire by (Winner of the William Hill  Sports Book of the Year 2020)

Teaching and Learning
When the adults change, everything changes: Seismic shifts in school behaviour by Paul Dix (recommended by Ms Brown (Sports)
More book lists of the year for inspiration:
Five Books has thematic lists of books including the best books of 2020 in many different categories including audiobooks, graphic novels, children's books, YA and all non-fiction topics.
Here are the Guardian newspaper Best books of the Year lists
New York Times – books of the year 2020
Thirty Books to help us understand the world in 2020