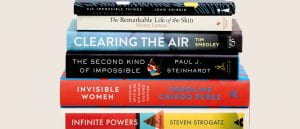 This November I have been prompted to read non-fiction on a Science theme. A number of our students  and science teachers keen on Science have been reading the Royal Society Science Book Prize Shortlist. I read 'Clearing the Air' by Tim Smedley and listened to the audio book of 'Invisible Women: Exposing data bias in a world designed for men' by Caroline Criado Perez. This won the 2019 prize and is a thought-provoking and hugely important book for all of us to read.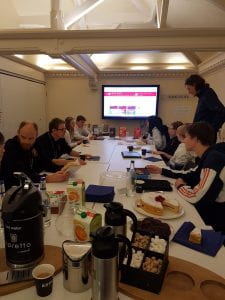 The students particularly enjoyed reading 'The remarkable life of the skin' by Monty Lyman. Dr Wright, Head of Biology was also very impressed and found the far-reaching scope of the book fascinating as it looks at the skin through the lens of sociology and history as well as science.
As the Royal Society website points out:
'Dr Monty Lyman leads us on a journey across our most underrated and unexplored organ and reveals how the skin is far stranger and more complex than you've ever imagined.'
One of our L6th students was surprised at how readable and gripping Paul Steinhardt's book 'The second kind of impossible' was. He found it read like an adventure as Steinhardt undertook a quest to prove the existence of quasicrystals.
It was impressive to see two of our Y10s explaining what they'd learnt from John Gibbin's 'Six Impossible Things' and 'The unexpected truth about animals' by Lucy Cooke (from last year's shortlist).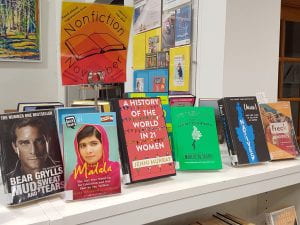 Not a frequent reader of non-fiction I was pleased that I had the double prompt of the Science Book Chat and non-fiction November to spur me to read two of the shortlist. I learnt so much about air pollution I am recommending Tim Smedley's book to everyone and banging on about it to anyone who will listen!
Before all the excitement of Christmas arrives don't miss the display of wide-ranging non-fiction in the library from inspirational biographies to accessible politics, psychology, books on the environment and activism to inspire you to reduce your dependence on plastic. There is something for everyone!