17th September 2021 Book of the Week:
'Dry' by Neal and Jarrod Shusterman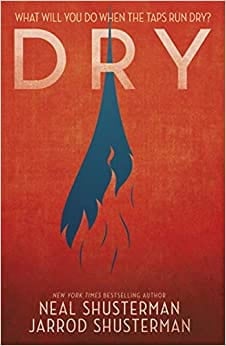 It is delightful to see a number of our new 3rd form visiting the library several times a day, for a brief pause, to read a graphic novel or the next instalment of their favourite dystopian novel. We are having more book chats than usual and enthusiastic readers are recommending the 'Scythe' trilogy to their friends. Books not only provide an opportunity to relax and escape into other worlds in a busy boarding school day, but also the chance to connect with peers over reactions to books. Neal Shusterman's young adult books have been incredibly popular with our students across the age range. This week's book recommendation is 'Dry' written by Neal Shusterman in collaboration with his son Jarrod. The 4th form scholars have been racing through this novel. This fast-paced, thought-provoking thriller is set on the brink of apocalypse. The taps have run dry in California and a group of teens struggle to keep their lives and humanity. What would you do if a Tap-Out struck? You can read a more detailed review here.