Get reading – Get extreme!
Here's my first Extreme reading photo of the summer holidays. Cycling along the Thames Path we ended up in Hyde Park and sought out the amazing 'Still Water' statue of a horse's head by Nic Fiddian-Green.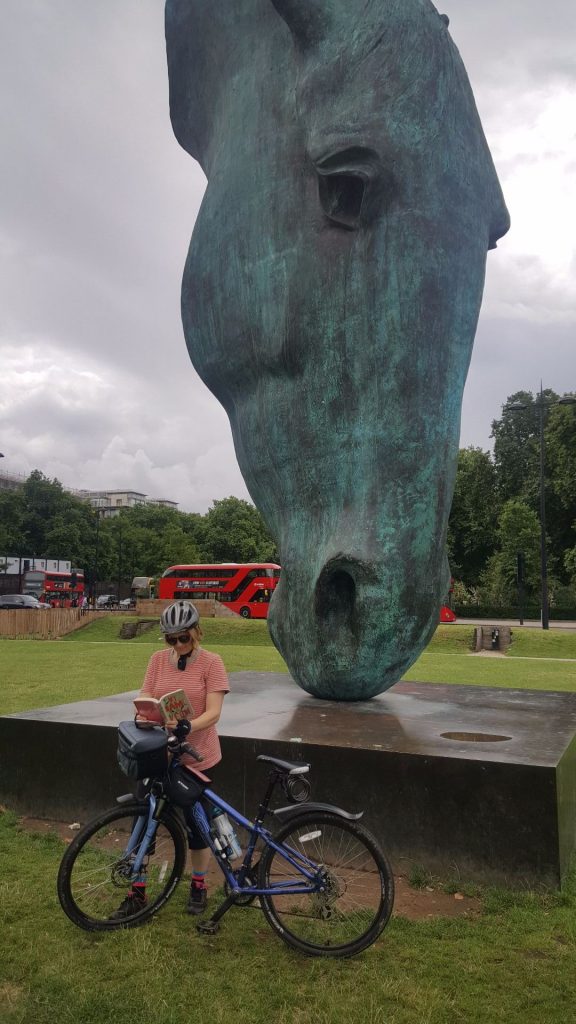 I was reading 'My Name is Leon' by Kit de Waal. This debut novel was shortlisted for the Costa First Novel Award 2016 and it's not difficult to see why. Funny, moving and engrossing I immediately warmed to 9 year old protagonist Leon. The brilliantly evocative opening of the book shows Leon's love and care for his newborn brother Jake. The boys' mother is incapable of looking after for her children and Leon takes on the role of caring for his brother. Although the book deals with tough themes – depression, sibling separation and identity it was ultimately uplifting. The feeling I had of foreboding and disaster was time and again proved wrong and I was left feeling positive and optimistic at the end of the book and ready to read it all over again!
Here's more from the Penguin website:
Leon is nine, and has a perfect baby brother called Jake. They have gone to live with Maureen, who has fuzzy red hair like a halo, and a belly like Father Christmas. But the adults are speaking in low voices, and wearing Pretend faces. They are threatening to give Jake to strangers. Since Jake is white and Leon is not.
As Leon struggles to cope with his anger, certain things can still make him smile – like Curly Wurlys, riding his bike fast downhill, burying his hands deep in the soil, hanging out with Tufty (who reminds him of his dad), and stealing enough coins so that one day he can rescue Jake and his mum.
Evoking a Britain of the early eighties, My Name is Leon is a heart-breaking story of love, identity and learning to overcome unbearable loss. Of the fierce bond between siblings. And how – just when we least expect it – we manage to find our way home.
Take a photo of yourself reading in an 'extreme' place (without endangering yourself!) Be as creative or imaginative as you like – extreme can mean unusual!
We are looking forward to receiving your photos which will be displayed in the Library at the start of the Michaelmas Term 2017.
Entries welcome from staff, pupils and parents. Prizes for all categories.
Email your photos to the Library: library@wellingtoncollege.org.uk
Or Tweet them to @welly_library
By: Tuesday 12th September 2017
Stating your name, book title and location. You can add more information or a book comment in the email if you wish but it isn't essential.
We love to hear your about your favourite summer reads!