Curious to know what other people have been reading?
Popular titles can provide inspiration for your reading. The lists below provide a wide-range of book suggestions from graphic novels and manga to science and Stephen Hawking.
Have a look at the most borrowed books this term:
Top fiction:
Scythe: Book 1 by Neal Shusterman
Lessons in Chemistry by Bonnie Garmus
Rivers of London: Book 1 by Ben Aaronovitch
The Penguin Lessons by Tom Michell
Heartstopper: Volume 3 by Alice Oseman
Heartstopper: Volume 4 by Alice Oseman
Small things like these by Claire Keegan
Oh William by Elizabeth Strout
Skin of the Sea by Natasha Bowen
The Marriage Portrait by Maggie O'Farrell
The bullet that missed by Richard Osman
The Sandman: Book 1 by Neil Gaiman
The Great Gatsby by F. Scott Fitzgerald
Life of Pi by Yann Martel
Nineeteen eighty four by George Orwell
Authors:
Joint 1st
Alice Oseman
Neal Shusterman
Koyoharu Gotouge (Demon Slayer Manga series)
Joint 2nd
Ben Aaronovitch
Anthony Horowitz
3rd
Joint 4th
Joint 5th
Jessie Burton
Robert Harris
Morris Gleitzman
Claire Keegan
Robert Muchamore
Haruki Murakami
Richard Osman
Philip Pullman
Joint 6th
Margaret Atwood
F. Scott Fitzgerald
Most popular series: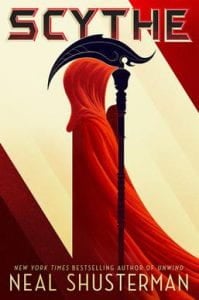 Arc of a Scythe (Scythe, Thunderhead and Toll) by Neal Shusterman
Demon Slayer (Manga, by Koyoharu Gotouge)
Rivers of London by Ben Aaronovitch
Heartstopper (Graphic novel series by Alice Oseman)
The Promised Neverland (Manga)
The Thursday Murder Club
Alex Rider by Anthony Horowitz
The Promise – The last airbender (Manga)
Most popular non-fiction:
Joint 1st:
Prisoners of Geography by Tim Marshall
Born a crime: Stories from a South African Childhood by Trevor Noah
Twas the nightshift before Christmas by Adam Kay
Atomic Habits: An easy and proven way to build good habits by James Clear
Alexander the Great: A Very Short Introduction by Hugh Bowden
This is the canon: Decolonize your bookshelf in 50 books by Joan Anim-Addo
The following are the next most popular (equal number of issues).
Stalingrad by Antony Beevor
What you need to know about economics by George Buckley
Seven brief lessons on physics by Carlo Rovelli
To engineer is human: the role of failure in successful by Henry Petroski
Shoe dog: a memoir by the creator of Nike by Philip H. Knight
Thinking fast and slow by Daniel Kahneman
Naturalist: a graphic adaptation by Edward O. Wilson
A little history of economics by Niall Kishtainy
Nudge by Richard H Thaler
Hot air: the inside story of the battle against climate change by Peter Stott
Other minds: the octopus and the evolution of intelligent life by Peter Godfry-Smith
Brief answers to big questions by Stephen Hawking
How not to be wrong: the art of changing your mind by James O'Brien
Bowl. Sleep. Repeat. Inside the world of England's  Greatest ever bowler. by Jimmy Anderson