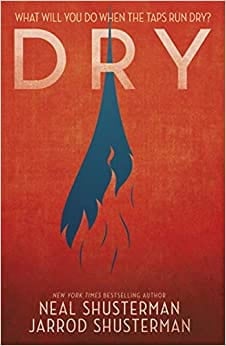 Librarians love book lists. Here we are sharing the most borrowed books from the library September 2021 – June 2022. 'The Scythe Trilogy' by Neal Shusterman continues to be very popular across the age range and with staff too. A dystopian, thought-provoking trilogy with a fast-paced plot and excellent characterisation. Fans of The Hunger Games this one is for you.
Also recommended is Neal Shusterman's cli-fi thriller Dry. The scenario is the taps running dry, the setting is California and the protagonists a group of teens trying to survive…
Don't forget to pick up some holiday reads from the wide range of new books.
If you are looking for some diverse YA novels to read over the summer the YA Book Prize Shortlist has just been announced. More information here
Top 20 most borrowed fiction titles from the library this academic year (up to 17th June 2022)
| | |
| --- | --- |
| Scythe: Book 1 | Neal Shusterman |
| Thunderhead (Scythe Trilogy Book 2) | Neal Shusterman |
| The Territory (Book1) | Sarah Govett |
| Nineteen eighty four | George Orwell |
| Aristotle and Dante discover the secrets of the universe | Benjamin Alire Saenz |
| Heartstopper (Graphic novel book 3) | Alice Oseman |
| One | Sarah Crossan |
| The Great Godden | Meg Rosoff |
| Normal People | Sally Rooney |
| The Crossing | Manjeet Mann |
| The Thursday Murder Club | Richard Osman |
| Unstoppable | Dan Freedman |
| A Good Girl's Guide to Murder | Holly Jackson |
| Heartstopper Volume 1 | Alice Osman |
| Me Before You | Jojo Moyes |
| Kid Got Shot | Simon Mason |
| The Man who died twice | Richard Osman |
| The hitchhiker's guide to the galaxy | Douglas Adams |
| Arctic Star | Tom Palmer |
| Am I normal yet? | Holly Bourne |
Top Ten most borrowed non-fiction titles from the library this academic year (up to 15th June 2022)
Anyone can do it: Building Coffee Republic from our kitchen table
Sahar & Bobby Hashemi
Factfulness: Ten reasons we're wrong about the world – and why things are better than you think
Hans Rosling
The great pretender: The undercover mission that changed our understanding of madness
Susannah Cahalan
Letters to a law student
Nicholas McBride
Fractured: Why are societies are coming apart and how we put them back together again
Jon Yates
Four thousand weeks: time and how to use it
Oliver Burkeman
Ways of Seeing
John Berger
Thinking fast and slow
Daniel Kahneman
Sapiens: a brief history of humankind
Yuval Noah Harari
Why chemical reactions happen
J. Keeler & P. Wothers