I'm collating a number of  summer reading suggestions as I come across them.
I've just discovered an excellent book review site Books Teens and Magazines. It has interesting and varied reading lists for Y9, Y10 and combines classics with the latest young adult titles.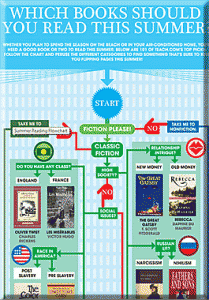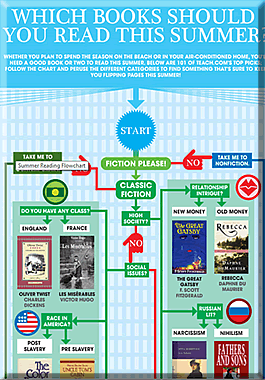 Here's an interesting  6th reading list from an English teacher. Based on her favourites, there are some really good suggestions here. I would particularly recommend "Pigeon English" by Stephen Kelman. Guardian review here
Here's the intriguing infographic with summer reading ideas I put up last year. It takes you on a number of pathways according to your answers to reading preference questions.
Don't forget the Top Ten Reads suggested by each academic department and also Mr Wayman's Wellington 100.
Masses of inspiration from the "Lovereading4kids" website including suggestions by age and theme and helpful additional information about authors. Very useful for finding out about recently published books.
If you like gripping, thought-provoking YA fiction and  you haven't had the opportunity to read the Carnegie Book Award Shortlist, we have copies of these excellent Young Adult books in the Library. I'm keeping quiet about the winner as we have our joint discussion and voting party on Monday lunchtime in the Library. The 3rd form scholars are welcoming Eagle House Y8S for this get-together.