This morning we welcomed the Picton 3rd form tutor group to the library for an informal discussion about the book "In the Sea there are Crocodiles". Each year the librarians agonise over the choice of book to send to all new 3rd form pupils. We search for a book to suit both boys and girls, something readable and interesting as well as thought-provoking and memorable. We have  a lot of reading  to get through to find something we are happy with. Last year's book 'Trash' proved very popular with its incredible plot and fast pace. This year's book may have been a slow starter but it rapidly became an involving and inspiring story.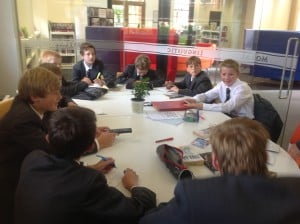 'In the Sea there are Crocodiles' is the account of Enaiatollah's life from the age of 10 to 15. It is based on his recollections of the perilous journey he made from his home in Afghanistan all the way to Italy as a child and teenager without any family support. He is amazingly resilient and recounts his life story to Fabio Geda, the Italian author who wrote the book.
Here are some of the 3rd form comments on the book:
"Exhilarating, tense, funny and moving"
"I loved the calmness of the book and the good moments I enjoyed"
"…extremely inspirational and it really made me think about the world"
"….very interesting and enjoyable. My Mum read it too!"
"I loved the book. It has opened my mind. It has made me more aware of how tough and how unfair people's lives can be and makes me feel very privileged."
….very moving and a good demonstration of what the world is like in some places"
We are looking forward to more book chat sessions with other tutor groups in the coming weeks.