The Summer Holiday Extreme Reading photo competition is back by popular demand
Take a photo of yourself reading in an "extreme" place. Be as creative or imaginative as you like (without putting yourself in danger!)  You could win an e-reader.
Encourage your  families to join in. You could combine it with the 'Extreme Reading Photo Competition' and read the book in an exotic or unusual place.
Email your photos to the Library: library@wellingtoncollege.org.uk before 8th September.
If you are looking for an exciting and thought-provoking read for the summer try The Outsiders by S.E. Hinton
All the new 3rd form will receive a copy of this excellent book from the Librarians. Let's make it the Wellington Summer Read!
It's a coming of age story of gangs in the USA, written by a 17 year old girl. It is brilliantly written, has appeal for all ages and doesn't take long to read.
Read the book and take the  brief online book quiz in September. Prizes for the House with the most readers.
Holiday Reading – Library recommendations
I love having the time to read during the summer – my "to be read" pile is large and varied, including Twelve Years a Slave by Solomon Northup and Fahrenheit 451 by Ray Bradbury. Don't forget to look at the Top Ten reads for suggestions of subject specific books and Mr Wayman's Wellington English100 for an eclectic mix of classic literature and modern fiction.
Fiction fans are in for a treat on 31st July with the publication of "What Milo Saw"; the first novel  by Wellington English teacher, Virginia Macgregor.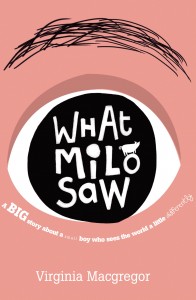 I feel privileged to have been able to read this touching book in advance of publication. It tells the story of Milo Moon, a young boy suffering from retinitis pigmentosa, who sees the world through a pinhole. He sets out to expose the problems at his gran's nursing home (accompanied by Hamlet, his pet pig). The story is peopled with a wonderful mix of flawed but interesting characters. There is plenty of humour amidst the adversity and Milo is a hugely appealing protagonist.  Although intended for adults, the book "will be adored by fans of child-narrated fiction like The Curious Incident of the Dog in the Night and Wonder" but for me it had parallels with Frank Cottrell Boyce's 'Millions' and an arch-villain reminiscent of Miss Trunchbull in Matilda. It's quirky, thought-provoking with big themes and an entertaining  plot. This beautifully written book stayed with me a long time after the first reading – but I'm looking forward to re-reading it, discussing it with my friends and family and seeing the final published version.