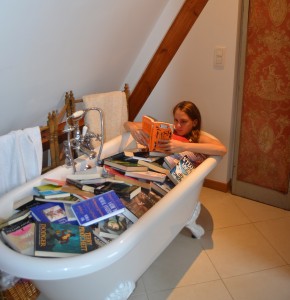 We had a wonderful variety of entries to this year's Extreme Reading Photo Competition. They ranged from exotic locations to extremely creative ideas of places to read, mirroring the contents of the books. We are very grateful to Mrs Henderson for judging this year's competition. Congratulations to all our winners and everyone who took part.
Our overall winner, Beatrice (Y9) wins a kobo e-reader.
2nd Georgia and Tom, Y10 (reading 'The Curious Incident of the Dog in the Night-time' by Mark Haddon whilst shark cage diving)
Joint 3rd  Ramarni, Y9 (reading 'Revolver' by Marcus Sedgwick in an egg) and Frank, Y11 on Hadrian's Wall.
Highly Commended
Finn, Y9 (flying through the air with 'Revolver' by Marcus Sedgwick)
Thomas, Y10 (reading an enormous book in Barcelona)
Have a look at the full display of photos in Back Quad.
Why not try one of the books our staff and pupils read this summer from the list below?
First Class Murder by Robin Stevens (Beatrice Y9)
The Curious Incident of the Dog in the Night-time by Mark Haddon (Georgia and Tom Y10)
Wonder by R. J. Palacio (Ben, Eagle House)
One Hundred Years of Solitude by  Gabriel Garcia Marquez (Mr Bickford-Smith, Poli
tics Dept) (Staff Winner)
Seven Deadly Sins: My Pursuit of Lance Armstrong by David Walsh (Mr McGarey, Chemistry)
Revolver by Marcus Sedgwick (many new Y9's!)
Rivers of London by Ben Aaronovitch (Ms Atherton, Library)
Killing Woods by Lucy Christopher (Zara, Y10)
Caesar by Allan Massie (Mr Atherton, Maths)
Trinity by Conn Iggulden (2nd book in his trilogy about the War of the Roses, Dr Hood, Chemistry)
Rubicon by Tom Holland (Louisa, Y10)
Elizabeth is missing by Emma Healey (Ms Wright, Library)
The Bees by Laline Paull (Dominic, Y11)