For World Book Day 2018 we've been asking the library team, students and staff for their cracking reading recommendations. We've been putting together a list of those books that grip the reader and you can't tear yourself away from the page. We're hoping that students who don't consider themselves keen readers might try a book and get hooked!
This is a work in progress. What books would you add to this list? Here's a our start: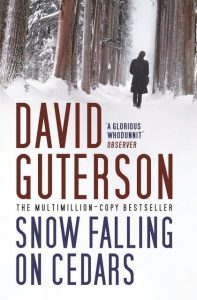 Thrillers/Mysteries
Snow Falling on Cedars – David Guterson
I'm not Scared – Niccolo Ammaniti
Papillon – Henri Charrière
The Giordano Bruno murder mysteries – historical thrillers starting with Heresy (then Prophecy, Sacrilege, Treachery, Conspiracy) each novel is set in a different city the first in Oxford the second in London. The research is impressive, Bruno a great maverick and the plots tense.
Pompeii – Robert Harris (and any of his books including  The Cicero Trilogy – Imperium, Lustrum and Dictator)
The Road – Cormac McCarthy
Before I go to sleep – S.J. Watson
The Godfather – Mario Puzo
Revolver – Marcus Sedgwick
The Beach – Alex Garland
The Bunker Diary – Kevin Brooks – Very bleak YA thriller – only read if you are feeling strong and like a harrowing read!
If you liked Bunker Diary you might like – The Chocolate Wars – Robert Cormier
Just great plot-twisting-page-turner-lose-a-weekend novels:
The Husband's Secret – Liane Moriarty
Big Little Lies – Liane Moriarty
Letter for the King and sequel The Secrets of the Wild Wood by Tonke Dragt
Young Adult Fiction (many are fantasy or dystopian fiction)
Holes – Louis Sachar – Plenty of humour combined with two great stories. (enjoy the film once you've read the fantastic book!)
Moonrise – Sarah Crossan
One – Sarah Crossan (The moving story of conjoined teenage girls written in free verse. A super quick and affecting read. Definitely a one-sitting book for a snowy weekend!)
Between Shades of Gray – Ruta Sepetys
Gone series – Michael Grant
The Absolutely True Diary of a Part-time Indian – Alexie Sherman
Mortal Engines – Philip Reeve
The Outsiders – S.E. Hinton
Blood Red Road – Moira Young
Uglies – Scot Westerfeld
Ender's Game – Orson Scott Card
Delirium – Lauren Oliver
Stolen – Lucy Christopher
The Territory – Sarah Govett
I am Number Four and the Lorien Legacy series by Pittacus Lore
We were liars – E.H. Lockhart
Humour combined with police procedure and fantasy! Sounds weird but widely enjoyed and was London City Read in 2015
Rivers of London –  Ben Aaronovitch (four books in the series)
Fantasy
Letter for the King and sequel The Secrets of the Wild Wood by Tonke Dragt Lose yourself in these gripping, spellbinding adventures.
The Bees – Laline Paull
Ender's Game – Orson Scott Card
His Dark Materials Trilogy – Philip Pullman
Fahrenheit 451 – Ray Bradbury
The Old Kingdom  by Garth Nix (Sabriel , Lirael,  Abhorsen,   Clariel, Goldenhand )
Horror/fantasy
The Call
Life stories/adventure
Touching the Void by Joe Simpson
Various good reads!
Ready Player One – This has proved very popular with staff and our teenage boys. One for computer game fans.
The help – Kathryn Stockett
The Secret Life of Bees – Sue Monk Kidd
Student recommendation to the Head of English – who loved this – Fiela's Child – Dalene Matthee
Simon vs the Homosapiens Agenda – Becky Albertalli
Call me by your name – Andre Aciman
The Hitchhiker's Guide to the Galaxy by Douglas Adams