Julian Sedgwick's visit
We were delighted to welcome Young Adult author, Julian Sedgwick, to speak to our 3rd Form students on Monday 3rd June. He held the theatre spellbound with tales of school, ghosts, 1920s Shanghai and a moving account of people trying to re-settle in the Fukus
hima area of Japan after the tsunami and earthquake of 2011.
Julian told us he had unhappy memories of school – he didn't feel he fitted in and didn't have good friends but it did prompt him to read for escapism and fuelled a desire to become a writer. He wanted to be a writer from the age of 7 but only got his first book published at 47 years old. Other early ambitions were to be a high wire walker, footballer, Zen Buddhist monk or a fire breather in the circus  – however his wife banned him from fire breathing as there is no safe way to do this!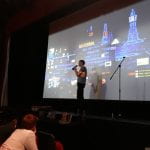 Introducing his 'Ghosts of Shanghai' trilogy, Julian set the scene of exotic 1920s Shanghai – lit with neon and teeming with gangsters, spies and refugees. He recounted the Chinese ghost story of the 'painted skin' and now I have to get onto book two 'Shadow of the Yangtze' to read this full tale. You can get a flavour of the book in this video trailer
Voyages in the underworld of Orpheus Black 
Julian also talked about his new book co-written with his brother Marcus Sedgwick and beautifully illustrated by Alexis Deacon.
Voyages in the underworld of Orpheus Black  – is a lyrical and dreamlike story of two brothers in conflict amidst the devastation of WWII London. Julian wrote one of the voices whilst Marcus wrote the other. It took them around 6 years to write this novel and includes themes of conscientious objectors during World War ll (their father as a Quaker was a conscientious objector), myths and reality and Harry's character becomes obsessed with the myth of Orpheus.
Julian went on to tell us about his recent research visit to Japan talking to people in the recovery towns around Fukushima. This was very moving and informative for our students.
The grand finale was full of tension, hilarity and jeopardy. Julian has had a lifelong interest in the arts and culture of China and Japan and a fascination with performance, street art and circus and we were treated to a display of knife juggling.