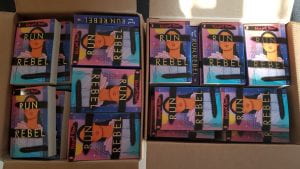 We're really excited to see 'Run, Rebel' has been nominated for the CILIP Carnegie Book Award Longlists announced on 18th February 2021.
Big congratulations to Manjeet Mann!
I am restless, my feet need to fly.
Amber is trapped – by her father's rules, by his expectations, by her own fears.
Now she's ready to fight – for her mother,  for her sister, for herself.
Freedom always comes at a price.
Over the Christmas holiday the whole of our 3rd form and a group of 4th Form Scholars were given a book to read. 'Run, Rebel' by Manjeet Mann was chosen and we followed up the reading with a virtual author talk by Manjeet on 14th January 2021. Manjeet spoke about her life, her writing inspiration and her future writing plans and this was followed by a Q&A from me (Head Librarian Lucy Atherton) and 4th former Amelie. After this we opened up the questions to all students and staff attending. There were many interesting questions and insightful comments about the book.
We hadn't realised how autobiographical Manjeet's first YA novel was and this gave the story even more impact. Manjeet's best bit of advice to aspiring writers was just get something down on paper. Her technique is to start with a 'vomit draft' all the writing comes pouring out and much editing happens later. She didn't read or write much as a child and teenager but had a passion for acting and plays and became an actress and playwright before turning to writing novels too. We are eagerly anticipating Manjeet's second YA verse novel The Crossing out in June 2021.
As an additional follow-up Ms Sagers from the English Department ran a 'How to write a book review' session for the 4th form group. Here are some of their responses to the book:
'Let's start a revolution'
Run, rebel is a captivating verse novel that explores fear, family and freedom.
This young adult novel follows a teenage girl consumed by her father's trauma as well as her own insecurities. Her only escape is running and her two best friends. Will she ever be able to break free from this maze of abuse and find freedom? But at what cost would freedom come?
Manjeet Mann's thrilling, inciting and engaging novel promises to draw you in with its unique writing technique encouraging a fast paced read which links to the constant fear which Amber is forced to endure.
Although this is targeted at a young adult audience this novel can be enjoyed by a wide audience as it addresses contemporary issues which will emotionally touch every reader because of its harsh reality.
Not only does the verse structure provide a thrilling read but also the constant variation of fonts and layout allows us to delve into her unpredictable and disturbing life.
This emotionally charged novel ensures a riveting read.
Run, Rebel review
By Roni, Elia, Saskia and Emily
'I realise I've only ever been half breathing'.  Manjeet Mann's portrayal of an underprivileged, underappreciated young woman investigates the themes of empowerment over oppression, and resilience, is perfectly summed up by this quote. Amber Rai's story explores the very notion of freedom, as she struggles to battle the traditions and ill-treatment, confining her to a 'normal' life. Mann's utilisation of verse contributes to the raw human emotions shown throughout her various battles, and emotionally ties the reader to the character throughout the whole novel.
Amber Rai: teenage girl, track runner, abuse survivor, fighting for her mother, her sister and herself. This eye-opening masterpiece is an essential read for everyone aged 12 and higher, particularly if you have previously enjoyed reading books such as 'The Hate U Give' by Angie Thomas or 'I Am Thunder' by Muhammad Khan. Each word is equally as breath-taking as the next, drawing the reader in immediately from page one with Manjeet Mann's inimitable style of writing. Mann portrays characters in such a vivid and compelling manner that while one is reading, they are able to become the character, intertwined in their thoughts and emotions. Throughout the story you will only get more and more immersed and absorbed in the enchanting words of Mann and even by the end of the first chapter, I assure you, you will be on the edge of your seat.
Throughout the novel I felt conflicted between characters and found myself empathising with many questionable actions that I didn't think I would but I believe that is the unique quality of Manjeet's writing. Her ability to portray so many emotions through structural verse allowed the reader to interpret their own individual synopsis from the story and more importantly decide the personal impact of each character. Having the readership of young adults, amongst other age groups, is so crucial. This book is massively insightful and relevant as we progress into our future and implements the importance of cultural awareness, even through one personal story. The storyline resonated so powerfully with me due to the escapism of exercise which I think is so decisive in Amber's character and easily connectable globally.
"Run, Rebel"book review
Run, Rebel by Manjeet Mann includes many intriguing & common themes including domestic abuse, freedom, women's rights, friendship, family, and sport.
This book is mainly directed towards young adults/ teenagers: people who can relate to the protagonist in terms of age or experience.
Amber, an Indian girl in the UK, feels trapped by her community's rules. She and her mother escape domestic violence, while Amber also must navigate the troubles of love, friendship and teenage school life.
Mann's writing is unique in its brilliant utilization of verse. Similarly, its varied structure and punctuation adds a layer of interest to the various motifs- in particular Mann's description of running uses bold vocabulary and purposeful spacing to drive the protagonist Amber's sense of salvation within sport.
The book uses the anatomy of revolution to introduce stages/chapters in the book, it also comes from an interesting perspective. Mann brings together traditional Indian culture with running and liberation. The characters situations are put in direct contrast with one another in this book – Amber's life compared to the lives of her friends.
"How we fought, how we survived, how we rebelled." (pg. 477) This short quotation shows a progression throughout the book in many ways from Amber's view, it sums up the tone of the book – an active, strong approach towards difficult circumstances she faced.
I believe that this book is an interesting insight into the life of young people in Indian culture, as well as the everyday misogyny many women experience. I would recommend it to people who like poetry, verse novels and teen drama.
 Candida,  Amelie, Sunay and Liza 
Sarah:
Key themes – female empowerment
Target audience – our age, people who can't relate so they can find out about other cultures
Style – In verse, different perspectives
Unique – varies in structure, speech in different fonts, illiterate parents
Summary – Amber likes to run, however her parents have her life arranged for her and she cannot follow her dreams. Gets fed up and decides to rebel. Because she stood up for herself she managed to change her future and her Mum's to one that she chose.
I am rebel
I question it
Aspects of the book still happens and older generations are still traditional
Some people can't speak for themselves (abusive relationships etc.)
Interesting, emotional to find out some people live in fear and pain.