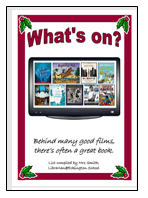 Every year, school librarians eagerly await Helen Smith's (Librarian at Eckington School) 'Christmas Reading Times'. It is a labour of love – Helen scours the Freeview channel Christmas film and TV listings and makes the book to film connections for us all. It's a fascinating booklet – I discover new film and TV dramas based on books each year. The back page alerts us to a dozen book adaptations to look out for in 2018 including the hugely anticipated 'Mortal Engines' film based on Philip Reeve's fantasy novels with screen play by the author and directed by Peter Jackson. Also coming up in 2018 is the film adaptation of Ian McEwan's 'On Chesil Beach' with screen play by the author.
There are plenty of classics on TV from 'The Great Gatsby' to Dickens 'A Christmas Carol' and Susan Hill's 'Woman in Black. I'm looking forward to the adaptation of the ghostly story 'The Signalman' also by Charles Dickens. For fantasy fans there is'Eragon' and 'The Hobbit' and plenty of Harry Potter! For history buffs if you missed the amazing 'Dunkirk' (based on 'The Big Pick-Up' by Elleston Trevor  and 'Dunkirk' by Ewan Hunter and J. S. Bradford) it is on ITV4 on Christmas Eve. It's definitely worth reading Laura Hillenbrand's inspirational story of Louis Samperini in 'Unbroken' before watching the film. Olympic runner Zamperini enlisted in the United States Air Corps in 1941. His plane was searching for lost airmen in the Pacific when his plane crashed. He survived 47 days on a raft at sea and two and a half years in  desperately harsh Japanese prisoner of war camps. His resilience and determination to survive are inspirational.
Why not enjoy reading the great books behind the films this Christmas holiday?
Many thanks to Helen Smith for this yearly treat!