It's that exciting time of year when everywhere you look people are sharing their 'Best books' lists from 2019. This is a brilliant opportunity to be reminded of the great books you might have missed or stocking up on holiday reading or Christmas present ideas. The winter is a perfect time to cosy up with an enjoyable book. I firmly believe it is vital that our young people are reading, for so many crucial reasons – developing focus and sustained concentration, expanding vocabulary and developing reading skills, widening subject knowledge, building empathy by learning about other cultures and situations. Fiction helps us empathise with characters struggling with difficulties and can help us resolve our own issues. Research has shown that children and teenagers who read for pleasure are more successful in life. See the National Literacy Trust Report on this subject and p6 Reading is a form of mindfulness – a calming absorbed time to escape from daily pressures and worries. Aside from all the worthy and important stuff it's fun and escapist to lose yourself in a grand adventure or story of your choosing. For anyone interested in the subject of how the digital world is affecting our deep reading and concentration I recommend Maryanne Wolf's book 'Reader, Come Home'.
Waterstones have announced their book and author of the year. These are voted for by Waterstones booksellers and represent books they consistently love and recommend to customers.
Charlie Mackesy won Book of the Year with his charming The Boy, the Mole, the Fox and the Horse and Greta Thunberg was voted Author of the Year for her book ' No One Is Too Small to Make a Difference.
In October The Independent newspaper has pages of best books on themes including 'best plastic-free living books' 
100 novels that shaped our world
I'm looking forward to exploring the BBC's recent list of '100 novels that shaped our world' You can also watch the accompanying programmes 'Novels that shaped our world' on BBC iPlayer .There are 3 episodes exploring class, the novel's link to the rise and fall of the British Empire and women as readers and writers.
Here is the Guardian Best Books of the Year list  
Here are the Best Books of the Year 2019 chosen by writers
The FT Business Books of the Year Won by Caroline Criado Perez with 'Invisible Women: Exposing data bias in a world designed for men' (which also won the Royal Society Science Book Prize 2019)
The Telegraph 50 Best Books of 2019
New York Times Critics' Top Books of 2019 
NYT best children's and YA books of 2019
For a view from America here are the New York Public Library's favourites from this year – arranged in  5 categories You can explore the Library's top 10 books in five categories: kids, Spanish-language kids, teens, adults, and poetry.
Here are the 'Five Books' website Best books of 2019This excellent website interviews experts in many areas of expertise and asks them to pick the best 5 books in their field. This creates a vast bank of suggestions on many topics from Science to Crime Fiction, Business to Poetry. A bookish delight!
Browsing all the lists, a novel which keeps featuring is Olive, again' Elizabeth Strout's sequel to 'Olive Kitteridge'. This highly regarded and frequently recommended novel has somehow passed me by so I'm looking forward to reading them both.
Costa Book Awards Shortlists 2019
The Costa Book Award category shortlists have recently been announced. Many of these books feature prominently on books of the year lists. Some great reading suggestions in these lists too. The categories are for Novel, First Novel, Biography, Poetry and Children's book and the ultimate Costa Book of the Year will be announced on 6th January 2020. Here is the list of past winners and shortlists.  I've bought the shortlists for library stock so we can read and join the conversation about this titles.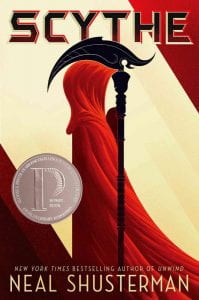 Our most popular fiction of this term so far has been the 'Scythe' trilogy by Neal Shusterman. This has proved incredibily popular and has caught on further as students have seen many of their friends walking around with this book. It's a dystopian series which is ideal for 'Hunger Games' fans. It has also been popular with English teachers and librarians and my 19 and 21 year old children. I sent them the final book 'The Toll' at University and it is so gripping they are getting distracted from all else!
Our top 4 fiction titles this term are:
Scythe Book 1 by Neal Shusterman
The Territory (Book 1) by Sarah Govett (previously our visiting author)
Burial Rites by Hanah Kent (Wellington Community Book Club read)
Joint 5th Divergent by Veronica Roth, The Hit by Melvin Burgess and Thunderhead (Scythe Book 2) by Neal Shusterman
Our top 5 non-fiction titles were:
Clearing the air: the beginning and end of air pollution by Tim Smedley
Talking to strangers: what we should know about the people we don't know by Malcom Gladwell
Prisoners of Geography by Tim Marshall
Factfulness by Hans Rosling
The Body: a guide for occupants by Bill Bryson