Winner Announcement
On Tuesday 3rd November the Royal Society held a fascinating live streamed event discussing the importance of popular, accessible science writing which was followed by the winner of the Royal Society Insight Investment Book Prize announcement. This year's prize was won by Dr Camilla Pang for her book 'Explaining Humans'
Subtitled – 'What science can teach us about life, love and relationships.
Diagnosed with Autism Spectrum Disorder at the age of eight, Dr Camilla Pang struggled to understand the world around her. Desperate for a solution, Camilla asked her mother if there was an instruction manual for humans that she could consult. But, without the blueprint to life she was hoping for, Camilla began to create her own. Now armed with a PhD in biochemistry, Camilla dismantles our obscure social customs and identifies what it really means to be human using her unique expertise and a language she knows best: science.
We are continuing to read and promote the shortlist. Our Academic Support staff are reading 'Explaining Humans', a keen Physicist in Y11 is reading 'The world according to Physics', I'm thoroughly gripped by Susannah Cahalan's 'The Great Pretender' and our Psychology staff and 6th formers are reading it too. Our Head of Economics read 'The Double X Economy' over half-term and wrote that ' it made me quite sad, as there are so many distressing stories about women. But equally it is so important that we are aware of what is going on, so I would definitely recommend it'. A biology teacher is reading Gaia Vince's 'Transcendence' so I'm looking forward to hearing feedback on that book too.
9th October 2020 update. Our copies of the Shortlisted books have just arrived and we have an eye-catching display in the library. 5th and 6th form Scient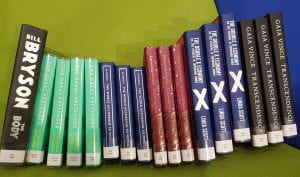 ists (and interested others!) are encouraged to borrow a copy and read it over the half-term break. Science Society will be leading this and we loo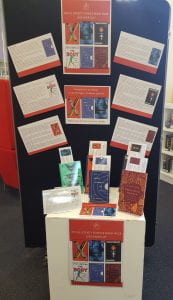 k forward to some lively discussions of the shortlisted books. I'm going to start with 'The Great Pretender' by Susannah Cahalan. Review here
We have e-books of 3 of the titles on our VLeBooks platform.
The Royal Society Science Book Prize Shortlist for 2020 has just been announced. As in previous years we are looking forward to reading the 6 shortlisted books with Science Society and other interested 6th formers.  The books are billed as 'representing the very best in popular science writing from around the world for a non-specialist audience'.  From past experience the books are engaging, fascinating and informative and have enthused our students to extend their reading in academic subjects. As well as Physics and Biology being represented this year there is a book of interest to Economists – 'The Double X Economy' by Linda Scott. This book is considered 'the first book to demonstrate the true impact of women's economic exclusion – and map out the exciting potential for change. Psychology students and the curious general reader can explore 'The Great Pretender' by Susannah Cahalan which uses detective work to explore the famous 1973 Stanford study of psychiatric hospitals. She asks the questions 'what if that ground-breaking and now-famous experiment was itself deeply flawed? And what does that mean for our understanding of mental illness today?'
We have e-books of 'The Double X Economy' by Linda Scott and 'The world according to Physics' by Jim Al-Khalili and 'The Great Pretender' by Susannah Cahalan on our VLeBooks platform which can be read immediately. 'Explaining Humans' by Dr Camila Pang and 'The Body' by Bill Bryson are already available in print form from the library.
You can view all the past winners here  Many of them are available to borrow from the Library.
The winner will be announced on 3rd November 2020. We look forward to our discussion meeting where students have the opportunity to champion the book they read if they feel it is a strong contended for the prize.