Don't forget to send us your Extreme Reading Photos for the summer holiday competition. Here's a very late entry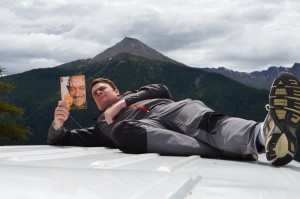 from last year.   It's Mr Townley on the Hannibal Alps trip. We're hoping for some good ones from this year's Classics trip walking the length of Hadrian's Wall.
Email your entries to: library@wellingtoncollege.org.uk  or tweet them to @welly_library.
The Open University is now offering Badged Open Courses for anyone wanting to try online courses, starting anytime.  Learners can work at their own pace, signing up any time and on completion gain a digital badge which can be shared with employers, UCAS etc. Each course takes 24 hours to complete. Try something new like forensic psychology or develop your Maths skills with two levels of courses.  Accounts are currently available to age group 16+
There are over 800 free courses including many introductory courses  (without badges) – some of which only take 5 hours to complete. See the full list here