News Vault
This vast electronic newspaper archive is an extensive collection covering over 400 years of content and comprising over 10 million digitized pages. You can cross-search the following databases or search them individually.
It includes:
Times Digital Archive
Sunday Times Digital Archive
Economist Historical Archive
Illustrated London News
The Picture Post
FT Historical Archive
Times Literary Supplement
17th – 19th Century British newspapers
The Listener 1929 – 1991
19th Century US newspapers
Access these excellent historical primary sources from the e-library on the Intranet.
The Week (also accessed from the e-library)
We've also recently obtained a site wide licence for the digital version of  "The Week" magazine. This is a very readable weekly news digest. You can read the latest edition or browse the archive dating back to 2009.
The archive is subject searchable which makes it a useful research tool.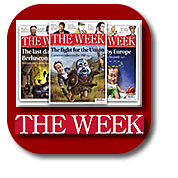 MFL
We are in the process of developing our MFL resources on the iPads. Please let us know if there are newspapers/magazines you would like to read on the iPads in the Library.
You can read Le Monde online and we now have "Science et Vie" French magazine.
For students of the German language Ms Bushell recommends Tagesschau in 100 Sekunden (also available on the iPads). German news in 100 seconds with subtitles.